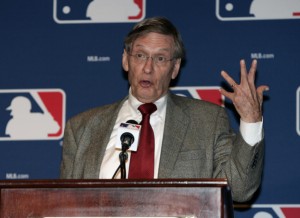 Bud Selig says he would "listen" to discussions about changing the designated hitter rule. Of course, that doesn't mean Selig is going to change the DH rule before he leaves office next year, but it is progress.
I have been saying for a while, adding the DH to the National League is inevitable at this point, it is just a matter of convincing the NL owners to play along.
While fans of double-switches and 11.1% less offense will wax poetic about the greater game and the increase in strategy, that is not why NL owners are hanging on to the antiquated rules. The fact is, eliminating the DH in the National League means owners will have to replace a bench player with a starting DH. And in most cases, DHs make a lot more money than the 25th guy sitting at the end of the bench. The other option is to get rid of the DH in the American League. That won't happen for the same reason. That is, the players' union is not going to allow AL clubs to get rid of 15 starting jobs in favor of 15 more bench players that make the league minimum. And let's face it, the players' union as a whole is more powerful than a non-unified group of owners.
The move also became inevitable when the Astros moved to the AL creating balanced leagues. That move requires at least one interleague match-up at all times and it is silly that these games are not being played without a uniform set of rules. Pitchers hitting is probably not going away anytime soon, but it is going away. It is just a matter of time.
THE JUNKYARD DOGS WEBTOPIA…
Jonny Gomes had a big home run to help the Red Sox even up the World Series. [BostonGlobe.com]
Jon Lester will start game 5 for the Red Sox. Any chance he will have the green stuff in his glove this time? [BI Sports]
All those beards in the World Series? Blame Jonny Gomes. [BI Sports]
The Gold Gloves are silly awards. But if you enjoy recognition for the Rays, all four Rays infielders are finalists for the award at their position this year.
Sounds like Dave Martinez is no longer a candidate for the Cubs job and didn't even get a second interview. [Ken Rosenthal]
Dave Martinez is a candidate to be the next manager of the Nats. [Marc Topkin]
Dave Martinez may also be an "under-the-radar" candidate for the Tigers' vacant managerial position. [mlive.com]
Here is another list of potential trade suitors for David Price and the prospects that would have to be included. [HardballTimes]
A Q&A with Dave Wills. [ABCActionNews]
Portland is not getting the Rays or any other MLB team. They missed their window already and if the Rays do move it will be someplace else. [ShadowoftheStadium]
Cam Newton and Steve Mariucci did not react well to the Bucs' cannon during the Thursday night game. [BI Sports]
Might we see a Bucs-Jon Gruden reunion? Chucky wants to coach again and the Bucs' losing ways bother him. [JoeBucsFan]
Likes

(

0

)
Dislikes

(

0

)