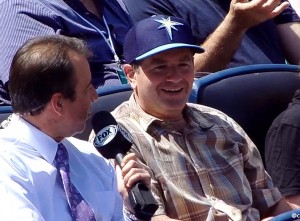 The Tampa Bay Rays finished the season with an average rating of 4.93 per broadcast on Sun Sports, according to Fox Sports. A 4.93 rating translates to an average audience of 89,000 households for each Rays game.
The 4.93 rating is up slightly from last year when the Rays posted a 4.9 rating. However, the ratings are still down from 2010 when the Rays posted a 5.9 rating, a record for the Rays on a cable network. That season, the Rays' television ratings ranked fifth in MLB.
A rating of 4.9 is typically in the neighborhood of ninth or tenth among all teams, but certainly in the upper-half.
Even though the Rays still struggle to fill Tropicana Field, the ratings are great sign that the team is never leaving this market. Major League Baseball would be leaving too much money on the table if they were to walk away from one of the better TV markets in the country.
The Rays' current TV deal pays them approximately $20 million per season and is set to expire in 2016.
Likes

(

0

)
Dislikes

(

0

)