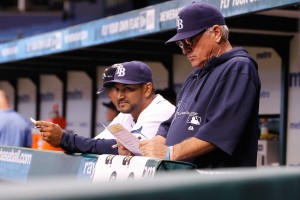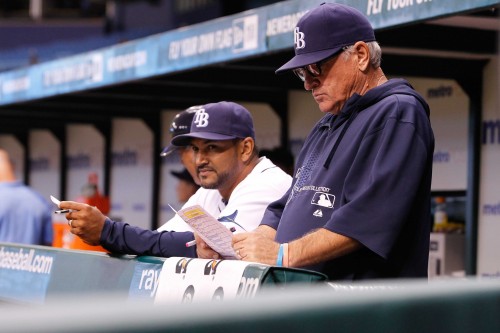 Joe Maddon's right-hand man, Dave Martinez, will interview for the Cubs' vacant managerial position according to Roger Mooney of TBO.com.
Martinez will be the second known candidate to interview for the job, following Padres bench coach Rick Renteria. The Cubs were also reportedly interested in hiring Joe Girardi before he re-signed with the Yankee.
That Martinez is a candidate to become a manager is not surprising. That Martinez is interviewing with the Cubs is slightly ironic for a couple of reasons, one of which might impact his hopes of being hired.
In 2003, then general manager Theo Epstein nearly hired Maddon to manage the Red Sox, passing on him for Terry Francona. Now, Epstein is the president of the Cubs and has a chance to hire Maddon's underling.
But maybe even more bizarre, and one that could actual impact his chances of becoming the Cubs' manager, is that Martinez once played for the Cubs, and his time there may not have ended well. If you believe the rumors, Cubs star Ryne Sandberg forced the Cubs to trade Martinez because of a personal beef between the two players.
On July 14, 1988, the Cubs traded 23-year-old Martinez to the Expos for 29-year-old outfielder Mitch Webster. It was a curious move for the Cubs, who were 8.5 games out of first place. The two players had similar stats and Martinez was still 4.5 years away from free agency.
The rumor that circulated among Cubs fans at the time was that the Cubs traded both Martinez and Rafael Palmeiro because of their relationships with Sandberg's wife. Adding to the irony is that Sandberg is now a manager himself, but not with the Cubs. He was recently promoted to the managerial position in Philadelphia.
Those rumors were never substantiated, but they still resonate among Cubs fans and you can be certain that many eyebrows will be raised and whispers will increase if Martinez is hired. So while the Cubs will never admit it, this part of Martinez's past, true or not, will have to be considered when they decide whom to hire.
Likes

(

2

)
Dislikes

(

3

)