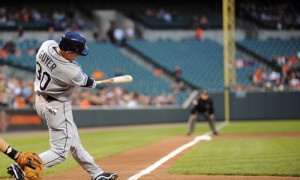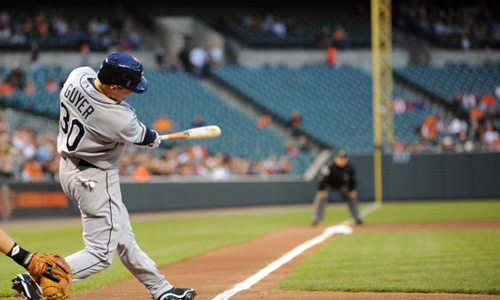 The Rays added minor leaguer Freddy Guzman to serve as a pinch-runner for the final 12 games. Guzman, who last appeared in the big leagues in 2009 with the Yankees, had most recently played for a team in Mexico.
But what is more interesting is how Guzman was added to the 40-man roster1 even though it was already full.
To make room on the 40-man roster, the Rays moved Brandon Guyer to the 60-day DL2. But that only tells a part of the story that really began two months ago.
You (maybe): "But wait, wasn't Guyer playing for the Durham Bulls in that triple-A championship game I watched on TV earlier this week? How can they put him on the DL if he was not hurt? And how can this happen after the Bulls' season ended? Isn't that sketchy?"
Yes he was playing, and yes it is sketchy. In fact, Guyer has been playing games since the end of August, so it is very sketchy. However, it is also not against the rules. Let me explain.
July 26 – The Durham Bulls placed Guyer on the 7-day DL with a broken finger. At the time he was already on the Rays' 40-man roster.
August 2 – Even though Guyer was still on the DL, the Rays added him to their 25-man roster and then moved him to the Major League disabled list. He was already on the 40-man roster so this had no impact on that roster. And since he was on the DL he didn't count towards the active 25-man roster. The only difference at this point was Guyer was suddenly making more money since he was now technically a Major Leaguer and the minimum salary for big leaguers ($490,000) is a lot more than minor leaguers3 (~$80,000). He was also able to start accruing service time that would move him closer to arbitration and free agency.
August 23 – At this point, Guyer was healthy enough to play and was used as a late-inning defensive replacement for the Durham Bulls. (there was originally some concern his injury was season-ending). He was still technically on the big league roster. But rather than demote Guyer to the minors, the Rays sent him on a minor league rehab assignment.
August 24 – Guyer did not play for the Bulls (this might be important as I will explain in a moment)
August 25 – This is where things get a little sketchy. If you look at the minor league transactions, Guyer restarted his rehab assignment on the 25th. Why? Maybe this was just a mistake. Or maybe the Rays did actually re-file the rehab assignment. That can be done if there is a new injury or the player consents. Considering Guyer was making a lot more money as a big leaguer on rehab assignment, he would easily be talked into consenting. But why would there be a need for another assignment this soon after the first? At this point, that is not clear.
Sept 17 – Here is where things really start to get sketchy. Players can only stay on rehab assignment for 20 days. Guyer's rehab assignment should have ended prior to the final game of the International League championship series on September 14 (assuming the rehab assignment officially started on Aug 25). The only way Guyer could play in Game 4 of the IL Finals and the triple-A Championship game on September 17 was if: a) he had been demoted (he was not); or b) was still on a rehab assignment. So at some point Guyer either developed a "new injury" *wink, wink* or he consented to extend his rehab. As I mentioned earlier, Guyer was making more money, so that was probably a very short conversation: RAYS: "Hey Brandon, umm…" GUYER: "YES!!!!" [Ed. note: see Chris' comment below. We may have found the second rehab assignment, even though it is not listed in the IL transactions.]
Sept 17 (part 2) – After the triple-A championship game, Guyer was transferred to the major league 60-day DL. Since Guyer was still on the Rays' roster and technically still "injured" (on the DL) the Rays were free to move him to the 60-day DL even though he had been playing games for three weeks. And since the Bulls' season was now over, the only difference this made for Guyer is that he will continue to get paid a big league salary. On the other hand, this move was important for the Rays because once Guyer was moved to the 60-day DL he no longer counted towards the 40-man roster. So now the Rays had an open spot and were able to add Guzman without putting anybody through waivers.
So, that was just a very long-winded way of saying that the Rays put in motion a plan nearly two months ago that manipulated the roster rules just so that they could have an extra pinch-runner for the final 12 games.
The Rays may not have known what they were going to need two months ago. But what it really shows is that the Rays were smart enough to know that they would probably need something. So they put themselves into a position where they could add somebody at almost no cost.
Sketchy? Sure. Friggin' awesome? Absolutely.
1 Just a quick reminder: Before September, teams can have 25 active players. This is the 25-man roster. If they need a replacement (e.g. a player goes on the DL) or just want to make a change, they can replace a player on the active roster with anybody that is on the 40-man roster. All teams can have up to 15 players on the 40-man roster that are not on the active roster. These 15 players will either be in the minors or on the disabled list.
2 The one catch is that players on the 40-man roster that are on the 60-day disabled list don't count towards the 40-man limit. So a team can potentially have more than 40 players on the 40-man roster.
3 This is the salary for a minor leaguer on the 40-man roster. Most minor leaguers make a lot less than this.
Likes

(

0

)
Dislikes

(

0

)