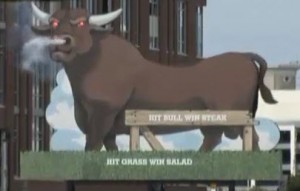 Towards the end of the season, former big league pitcher and International League Pitcher of the Year, JD Martin was added to the Rays' roster and then quickly waived and then demoted back to triple-A Durham. We mentioned previously that this upset some fans in Durham. But it also upset Martin enough for him to vent to Adam Sobsey of BullCitySummer.org…
"I don't know [why I wasn't given a shot], but whatever it is, I'm really disappointed in the Rays."
In the midst of a flurry of roster moves, the Rays added Martin, to the 40-man roster and promoted him to add some depth to the bullpen. This move came just four days after a 12-inning game against the Rangers and two days after the 18-inning game against the Orioles.
Following the game, Martin was designated for assignment to make room for Jesse Crain who was to be activated from the 60-day disabled list. Martin did accept a demotion to triple-A Durham even though their season is over. When asked about the demotion, Martin sounded like he was holding out hope of being needed by the Rays in the last week, but also accepting that it would probably not happen…
"You never know," Martin said, as though trying to convince himself of something he knew full well. He paused for the briefest of moments, seeking precisely the word he wanted to leave on the record. It turned out he had already found it, and he used it twice more: "[I]f it doesn't happen, I'd be very disappointed in this organization, because I feel like I've earned it. I'm not the only guy that's earned it, but I'd be really disappointed."
Martin, who would have become a free agent whether he was promoted for one game or not, made it clear that he has no interest in re-signing with the Rays…
"No, no…I would love to. This team [the Bulls] was awesome, and I like the organization, but if [the Rays] don't give me a [major-league] opportunity after my season, there's no point. There's nothing more I could have done."
Baseball can be a cruel sport at times and it is understandable that Martin feels he deserved a shot. But the Rays are not a mid-level team that is going to risk one roster spot just to be nice to a guy that had a good year at triple-A. Either he is a guy the Rays need or he is not and if he isn't he won't be promoted.
If the Rays had failed to keep a promise to Martin then he would have a right to be disappointed. But otherwise, his only disappointment should be that he was not better than the guys the Rays did use and that is a label that a lot of good pitchers will face.
We are also talking about the one franchise with the most pitching talent in baseball. Nine different pitchers started a game for the Rays this season*. Every single one of those pitchers is either an established big league pitcher with a proven track record or a top pitching prospect. That is going to be tough for any journeyman pitcher to overcome.
Sure, it would have been nice to give Martin a real shot and if the Rays were out of the playoff hunt, it probably would have happened to save some innings on the arms of the other guys. But it is not the Rays' fault that they were trying to win games.
* This does not include the start by Jamey Wright in a game that was essentially a starter-by-committee game.
Likes

(

0

)
Dislikes

(

0

)