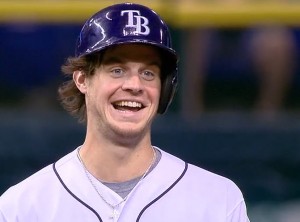 Among American League rookies that have played at least 80 games, Wil Myers is second in batting average (.291), second in OBP (.351), second in home runs (13), tops in RBI (51), first in OPS (.825), and second in WAR (2.1). That sounds like a Rookie of the Year resume, right? Maybe not.
The big knock on Myers is that he will only play in, at most, 87 games, or just over a half of the season. There has never been an AL Rookie of the Year position player that has played in less than 100 games.
But it seems as though the tide is starting to turn in Myers' favor and now it looks like he is going to win the award easily.
Ken Rosenthal of FoxSports.com has Myers as his pick in the Rookie of the Year voting..
A few weeks ago, I was leaning toward Iglesias over Myers; Iglesias is a far better defender and at the time his WAR was slightly higher, in part because he had played in a greater number of games…Well, things change…Myers' .890 OPS in September helped propel the Rays to the top of the AL wild-card standings. He also has passed Iglesias in WAR, despite appearing in 22 fewer games…Archer, Rangers lefty Martin Perez and Athletics righty Dan Straily are all legitimate candidates for the third spot; Archer has the lowest ERA of the three.
And then this graphic appeared on ESPN this morning…
Not that I think Rick Sutcliffe or Aaron Boone are the best analysts in baseball. But that they agree suggests that Myers has become the "obvious pick."
If he does get the award, he would be the third member of the Rays to win, joining Evan Longoria and Jeremy Hellickson.
Likes

(

0

)
Dislikes

(

0

)