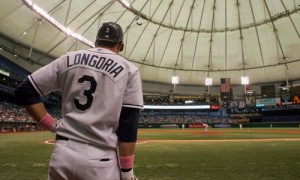 Evan Longoria wants to get back to the playoffs, but not for the reasons you might think (via TBO.com):
"To be honest with you, I've played really the whole year thinking about Jamey Wright…I don't know, for whatever the reason he's been more of an inspiration for me than any past events or the sadness of not winning the World Series in 2008…He's played 17 years and never been a part of it. I've been wanting to [make the playoffs] for him. To be able to celebrate with a guy like that when we make it in will be a really, really cool experience."
That's great that Longo wants to get Wright into the playoffs for the first time in his career. But is that really the best motivation for a player? Is it a little worrisome that the best player on the team needs to find outside motivation like this? Isn't winning enough of a motivation?
Maybe I am reading too much into this and maybe Longo meant that Wright was just an added motivation. But the quote makes it sound as if Longoria takes winning for granted a little bit. On the one hand, that's a good thing because it means the team has been successful. But at the same time, the team hasn't won a World Series and you want your favorite players to still feel that hunger no matter what has happened in the past.
And what happens next year? Do the Rays have to go out and trade for Adam Dunn who has played 13 seasons in the big leagues and never been to the playoffs? Or will Longo have to wait until Dunn is a free agent in 2015? On a side-note, I can see Dunn DHing for the Rays in the future, so there is that.
Likes

(

0

)
Dislikes

(

0

)