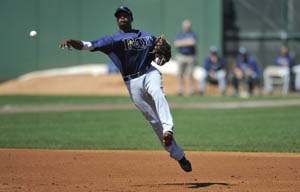 For a while it was beginning to look like Tim Beckham would never make it to the majors. But now, in his sixth season as a pro, Beckham is knocking on the door and he almost certainly be in a Rays uniform as early as Sunday when the Rays can expand their roster.
Beckham, the top pick of the 2008 draft, still doesn't have great offensive numbers, hitting .283 with a .345 OBP and 17 stolen bases. He is also still somewhat error-prone, with 24 errors this season.
But Beckham has four big factors working in his favor:
The Rays could use another middle infielder. Yunel Escobar is the only true shortstop on the team. While both Ben Zobrist and Sean Rodriguez can play shortstop, neither is ideal. When Zobrist plays shortstop, all that does is create a hole someplace else. And Rodriguez should only be in the game if a lefty is on the mound. Beckham would give Maddon another true shortstop as well as the added flexibility of also being able to play second base. In addition, while Beckham does hit lefties better than righties, his OBP is almost evenly split (.344 vs LHP, .345 vs RHP).
Beckham is already on the 40-man roster. For those of you that don't follow the overly-complex roster rules of MLB that closely, teams have a 25-man active roster and a 40-man roster. The 40-man roster is typically the 25 guys in the big leagues and 15 other players in the minors (players on the 60-day DL do not count towards 40-man total). Teams can increase their roster in September and anybody that is on the 40-man roster can be in the big leagues after September 1st. If Beckham was not on the 40-man roster, he certainly could be added. But that would come at the cost of having to cut somebody off the 40-man roster and exposing them to waivers. Since Beckham is already on the 40-man roster, there is no risk to adding him to the big league roster next week.
Brutal Schedule. The Rays are about to begin a big 10-game west coast road trip with no off-days. Maddon is going to want some extra arms in the bullpen and a couple of extra bats on the bench, including an outfielder (Brandon Guyer?), a catcher (Chris Gimenez) and an infielder. Beckham is the only available infielder on the 40-man roster. The Rays could potentially bring back Ryan Roberts, but he is not on the 40-man roster and somebody would have to be cut.
Beckham is suddenly playing with confidence. This is less scientific, but his numbers have steadily improved all season, and it just looks like Beckham finally believes he belongs in the big leagues and has the confidence to get there. Of course, everybody plays with more confidence when they are playing well, so this is a chicken-or-egg scenario. But Maddon is just as big on personality as he is on splits. And you can be sure that Maddon has watched tape of Beckham and noticed the little extra snap in the bat and the little extra speed in the step.
The one factor working against Beckham is that the Durham Bulls start a first round playoff series next week. Pulling Beckham up on Sunday (or Monday in L.A.) would certainly hurt the Bulls roster. So when Beckham is called up depends on how important the Rays think he is for the roster.
If there is a feeling that Beckham can improve the team, he will be up on Monday. If the Rays think Beckham's only benefit would be some late-inning roster flexibility or to give other guys rest, they may wait. Also, if the Rays think a reliever like Jeff Beliveau won't help in September they can cut him off the 40-man roster and add Roberts.
Either way, Beckham is going to join the Rays soon and it could be as early as Sunday.
Likes

(

0

)
Dislikes

(

0

)