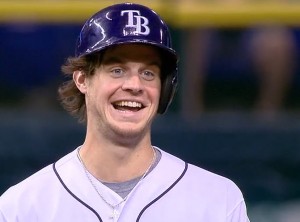 The GBT – The Good, The Bad and The Telling sandwich, where The Bad is nice and lean and the The Telling is ripe.
RAYS 7, Mariners 1 (boxscore)
THE GOOD: Wil Myers. So, this kid is pretty good, huh? 203 plate appearances is a small sample size, but it is not so small that we can completely ignore it either. After 47 games, Myers is hitting .326 (.385 wOBA) with 9 home runs, 37 RBI and 5 stolen bases. Over a full season, those numbers translate to .326 with 31 home runs, 128 RBI and 17 steals. And yes, he has a whopping .385 average on balls in play (only 1 full-time player in MLB has a BABIP higher than .385). But when you hit the ball as hard as Myers (23% line drive rate) you are going to have a high BABIP. It will probably come down a bit over time, which means he is not a .326 hitter (duh). But he is probably a .300 hitter and is already showing us 30-35 home run power. That will likely go up a tad as he matures…Alex Cobb.  Corn Cobb is as cool as they come. We knew this before he was hit in the head with a line drive. But if ever there was a time for Cobb to be a little antsy it would be in his first start since being hit. Instead, he comes out and looked like Alex Cobb, giving up just 1 run in 5 innings with 6 strikeouts and 2 walks. Welcome back, Cobber…Evan Longoria. Is Dirtbag heating up again? In the last 2 games he is 4-8 with 2 doubles, 2 walks, and a home run.
THE BAD: Changes are Coming. Desmond Jennings is expected back early next week which means Jason Bourgeois is likely on the way out. And then Matt Moore could be back next week at some point and Brandon Gomes who must be activated this week. Will Roberto Hernandez be pushed to the bullpen? Will Chris Archer be demoted? Is Jamey Wright the reliever left without a chair? If Hernandez does go to the bullpen, a second reliever will need to be jettisoned. Complicating matters is that we are now just two weeks from September and expanded rosters. So the Rays may try to get around having to DFA anybody and instead will lean towards either demoting somebody or DL somebody with a sore left roster spot.
THE TELLING: The Rays are "hoping" Matt Moore can return to the rotation next weekend…The Rays are now 68-51, just 2 games behind the Red Sox and 3.5 games behind ahead of the Orioles for the final Wild Card spot.
THE JUNKYARD DOGS WEBTOPIA…
DOWN ON THE FARM…
DURHAM 2, Gwinnett 1. Merrill Kelly allowed just 1 unearned run in 6.1 innings. He struck out 6 and walked 2…Brandon Gomes faced 6 batters striking out 1 and giving up 1 hit…Mired in a mini-slump, Tim Beckham did not play.
Jackson 10, MONTGOMERY 1. Jacob Thompson gave up 6 runs on 7 hits and 5 walks in just 3 innings…Mikie Mahtook was 1-5.
Jupiter 7, CHARLOTTE 2. Drew Vettelson  was 2-4 with a double and an RBI.
BOWLING GREEN 6, Fort Wayne 4. Jeff Ames gave up 4 runs in 7 innings…Andrew Toles was 2-5 with 2 stolen bases. He now has 54.
PRINCETON @ Bluefield. suspended due to power outage
Likes

(

0

)
Dislikes

(

0

)