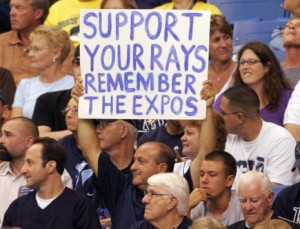 The Rays are averaging just 18,476 tickets distributed per game. That attendance figure is 29th in Major League Baseball and better than only the Marlins, who are averaging 18,181 per game.
That's bad. But comparing the Rays' attendance to that of teams like the Yankees, who play in a metro area with more than 19 million residents, doesn't do us much good. Instead, a better (albeit still imperfect) method is to look at each team's average attendance and how that compares to that city's metro population
Over at BusinessInsider.com, I ranked all 30 teams based on per capita attendance. What we see is that the Rays' average attendance represents 0.65% of the Tampa-St. Pete metro area population. That ranks 14th among all teams and is 0.14% higher than the average team (0.51%).
CLICK HERE TO SEE THE ENTIRE RANKING
Of course, we have to be careful with this data. The Rays still need to sell more tickets. When a team is in a market the size of Tampa-St. Pete, they need a lot more per capita support if they want to level the playing field.
But this data does show that the level of support for the Rays at the ticket office is well-within the range that is to be expected based on the local population. And there are fan bases that show much less support for their teams than the people of Tampa-St. Pete.
Likes

(

0

)
Dislikes

(

0

)