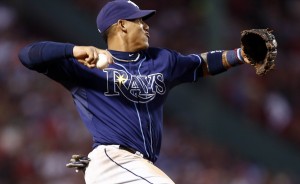 The GBT – The Good, The Bad and The Telling sandwich, where The Bad is nice and lean and the The Telling is ripe.
RAYS 5, Red Sox 1 (boxscore)
THE GOOD: Yunel Escobar. Escobar was all over the place last night and if one game ever wins a Gold Glove, this was it. Everybody will talk about the smooth behind-the-back glove flip, and that was amazing. But, he also made at least two other plays most shortstops wouldn't make and he made them look easy…King David. We all knew Price would be great and it seemed like Price had reached his potential last year and that is what we would see until he was traded. But Price has elevated his game to a new level that few could have predicted. In 5 starts since coming off the DL, Price has struck out 27 batters and walked just 1. Anything above a 3-to-1 ratio is considered good. He also has 3 complete games and hasn't needed more than 98 pitches in any of them. The only thing that has hurt him is the long ball. He has given up just 8 runs, 6 have come via 5 home runs…Wil Myers. Myers is still red-hot with another 2-hit game. That is his 6th straight multi-hit game and his 8th in the last 9 games. Over that span, Myers is 18-36, raising his average from .247 to .322…2013 Tampa Bay Rays. This team is going to the playoffs. And while the playoffs are often a crap shoot, the Rays have the pitching to win it all. It's time to get excited, folks.
THE BAD: Molina's Sac Bunt. Why is Jose Molina trying a sacrifice bunt with nobody out and the Rays leading 3-0? Molina is not a good hitter, but he is not terrible against lefties. And he is so slow that any bunt hit in the direction of a fielder is going to be an easy double-play. To make it worse, it is the second time he has bunted into a double-play in a week.
THE TELLING: The Rays are now 60-42, a half-game behind the Red Sox and 3.5 games ahead of the Rangers for the 2nd Wild Card spot.
THE JUNKYARD DOGS WEBTOPIA…
Taylor Guerrieri, the Rays' first-round pick in 2011 underwent Tommy John surgery. The procedure was performed by Dr. James Andrews and Guerrieri is expected to miss at least part of next season.
Stuart Sternberg says St. Pete may soon allow the Rays to look for baseball sites in Tampa. [TampaBay.com]
Chris Archer makes Grantland's list of the most exciting players in baseball. [Grantland]
Joe has everything you need to know from the Bucs' training camp. [JoeBucsFan]
DOWN ON THE FARM…
DURHAM 3, Gwinnett 1. Mike Montgomery struck out 6 and walked 1 in 5.2 shutout innings…Brandon Guyer went 2-3 with a walk and 3 stolen bases. His 22 steals are 7th in the IL.
Jacksonville @ MONTGOMERY. double-header postponed
Dunedin 8, CHARLOTTE 5. Feipe Rivero gave up 8 runs (7 earned) in 6.1 innings…Ryan Brett had a single, a double, and 2 stolen bases.
Great Lakes 5, BOWLING GREEN 1. Thomas Coyle had 2 hits and stole his 31st base.
Likes

(

0

)
Dislikes

(

0

)