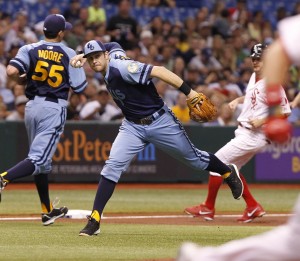 A week ago, the Rays had their highest-rated game of the season when Sun Sports drew an 8.8 rating (approximately 159,000 households) for their Monday night matchup against the Red Sox. Since then, the ratings have remained strong.
According to a source with Sun Sports, seven of the Rays' ten highest-rated games of the season have occurred in the last two series.
The seven games against the Red Sox and Yankees averaged a 7.6 rating (137,000 households). The first three games of the Red Sox series all posted a rating of at least 8.0 and all three reached at least a 10.1 rating (182,000 households) at some point during the telecast.
Even last night's game, which included a 39-minute rain delay, reached a peak rating of 10.2 (overall rating was 7.3). That means more than 184,000 homes were tuned in to the Rays game at one point in just the Tampa-St. Pete market.
Overall, the Rays are averaging a 6.0 rating (108,000 households) in the month of July.
For comparison, in 2012, the Rays averaged a 4.9 rating (87,000 homes) on Sun Sports and that was up 28% from 2011. This month's ratings are also comparable to the 2010 season when the Rays averaged a 5.9 rating, fifth among all teams.
Since April 1, Sun Sports is the no. 1 rated cable network in primetime and their ratings have risen 8% since June 28.
Playing the Red Sox and Yankees certainly helps. But these numbers show that fans are starting to get excited about this year's club. And that could mean a surge in both the TV ratings and the attendance.
Likes

(

0

)
Dislikes

(

0

)