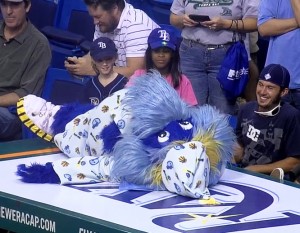 The GBT – The Good, The Bad and The Telling sandwich, where The Bad is nice and lean and the The Telling is ripe.
Red Sox 10, RAYS 8 (boxscore)
THE GOOD: James Loney. Earlier in the day, Loney made an appearance at a local hospital and promised the nurses he would hit a home run. He did…Ben Zobrist. Zorilla had a career-high 5 hits, tying the team record. And in his last 5 games Zobrist has been on base 15 times (11-19 with 4 walks), raising his OBP from .337 to .365. He is a WAR machine…Cesar Ramos. One day after throwing 3 innings and 45 pitches, Ramos threw 3 more innings and another 44 pitches. I think it is safe to say he won't be available tonight…Alex Torres. El Toro Azul remains red hot.  He has now thrown 13.1 innings and is yet to allow a run. He has given up just 3 hits and 3 walks and struck out 18. That's pretty good.
THE BAD: John Lackey. There are some important "unwritten rules" in baseball. This is not one of them. Allegedly, Lackey was upset at Matt Joyce for "pimping" a long foul ball that he thought was a home run. Obviously I am biased, but you guys know, if Joyce had done something wrong there, I'd be the first to point it out. If anything, when an opponent does that, YOU LAUGH. You don't think "that offended me, I'm going to put the next pitch in your back, RAWRR!" After the game, Joe Maddon called Lackey "a bad teammate" suggesting that play is going to get one of his teammates hurt later. Maddon also turned the Red Sox on Lackey. Maddon said he could tell the Red Sox thought the beanball was out of line. It was a shrewd move by Maddon to try to create a divide in the Red Sox locker room…Missed Opportunities. The Rays left 13 men on base, including a runner on third base in 5 different innings. The worst moment came in the 10th inning when the Rays loaded the bases with no outs and failed to score. Longo grounded into a double-play (he was out) and then Sam Fuld grounded out…Alex Cobb. Was Corn Cobb tipping pitches again? The first 8 batters of the game reached base and at times it looked like the Red Sox batters knew what pitch was coming. Either the Sox were stealing signs or Cobb was tipping pitches. In the end, the Sox scored 6 runs in the first inning after giving up 7 runs total in his previous 5 starts combined.
THE TELLING: Kyle Farnsworth has some elbow soreness and Joe Maddon says he may be headed to the DL…David Price called his bullpen session the best he's felt all year…At 5:24, this was the second longest game in Rays history, based on time. The longest was 5:44, also versus the Red Sox, in 2011. It was just the 12th game in Rays history to go 14 innings, something that happened 3 times in 2012. It was also just the third time in Rays history that they lost a game in which they hit 4 home runs. ..The Rays are now 34-29, 5 games behind the Red Sox.
THE JUNKYARD DOGS WEBTOPIA…
Here is a more complete video of the John Lackey beanball and the benches clearing. [BI Sports]
Chris Wise gives some good examples of one of my great frustrations. That is, the Rays are already a secretive organization. And it is even worse at the minor league level thanks to a lack of media coverage. [WDBB]
The images from the Cubs game last night are must-see. [BI Sports]
Bill James suggests a change for the minor leagues that I have long been a proponent of. That is, players start out in the minor leagues without belonging to any specific franchises. Baseball teams then wait to draft players until they are older and closer to being ready for the majors. How much more interesting would the MLB draft be then? [Baseball Nation]
Will the Bucs keep 3 quarterbacks? [JoeBucsFan]
DOWN ON THE FARM…
DURHAM 5, Louisville 2. J.D. Martin tossed 6.2 shutout innings and improved to 8-3. His ERA is now 2.92…Wil Myers went 0-3 with a walk and 2 strikeouts…Leslie Anderson hit his 9th home run.
MONTGOMERY 13, Huntsville 2. Todd Glaesmann hit his 7th home run and went 3-4.
BOWLING GREEN @ Lake County. cancelled
Likes

(

0

)
Dislikes

(

0

)