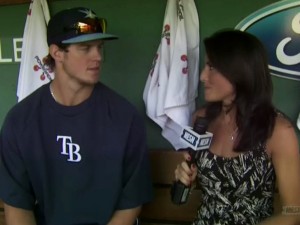 The GBT – The Good, The Bad and The Telling sandwich, where The Bad is nice and lean and the The Telling is ripe.
RAYS 6, Red Sox 2 (boxscore)
THE GOOD: Jeremy Hellickson. For just the 5th time in 15 starts, Hellickson allowed less than 2 runs. And it may have only happened because Joe Maddon pulled Hellickson after just 88 pitches. This came after Hellickson had a melt-down in the 6th inning of his previous start after 5 good innings. It will be interesting to see how Maddon handles Hellickson moving forward. Is he now just a 90-pitch pitcher? Or is there a red flag that Maddon and Jim Hickey now know to look for?…Jose Molina. How many times in the last 5 years has Jose Molina scored from second on a single? Two, three, maybe? I'm guessing Tom Foley doesn't even send Molina if there was less than two outs. But JoMo got those big legs moving last night on Ben Zobrist's 2-out single and put the Rays up 3-2…Jake McGee. Don't look now, but McGee has allowed just 1 run in his last 17 games (15.1 ip, 0.59 ERA). And he is finally dominating with 19 strikeouts and just 3 walks over that stretch.
THE BAD: Starting Pitching. Yes, I just got done telling you Hellickson had a good start. And he did, kinda. But he still only worked 6 innings. And as Joe Maddon says all the time, the strength of this team is the starting pitchers working deep. And that means the Rays need a lot more 7-1-1 games. That is, 7 innings from the starter, 1 inning from Peralta and 1 inning from Rodney. And yet, last night was the 17th time in the last 20 games in which the starting pitcher failed to work past the 6th inning.
THE TELLING: David Price will make his first rehab start tomorrow for Charlotte…It looks like Matt Joyce is now the most-days left fielder (of course) and Kelly Johnson and Luke Scott are now platooning at DH based on matchups…The Rays are now 37-35 and pull back within 6 games. The win kept the Rays from falling 8 games back before the All-Star break for the first time since 2007…
THE JUNKYARD DOGS WEBTOPIA…
DOWN ON THE FARM…
DURHAM 3, Louisville 2. Merrill Kelly tossed 7 shutout innings, striking out 4 and walking 3…Vince Belnome hit his 6th home run. He's also hitting .345…Shelley Duncan, who homered twice in his first game after returning from his mother's funeral, is 0-8 in the last two games and is hitting .234.
Pensacola 4, MONTGOMERY 2. Mikie Mahtook went 1-3 with a walk and committed his 6th error. He's hitting .248.
St. Lucie 5, CHARLOTTE 4. Kes Carter (3) and Richie Shaffer (5) homered for the Stone Crabs. Carter also added 3 singles.
BOWLING GREEN. no game scheduled
Likes

(

0

)
Dislikes

(

0

)