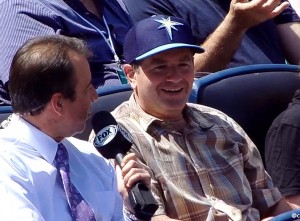 Stuart Sternberg did a Q& A with Jon Paul Morosi. We linked to part one earlier which deals with diversity in baseball and is very interesting (you can read part one HERE). However part two deals with the Rays and like most interviews with the Rays' front office, it is filled with a lot of non-information (you can read part two HERE).
That's not meant as a criticism. But as we have discussed many times before, the Rays don't like to reveal much unless there is a strategic advantage. And even then, they keep things close to the vest.
The last time the Rays revealed something might have been when Andrew Friedman admitted the Rays had a pre-draft deal in place with Tim Lincecum before drafting Evan Longoria when he fell to third. And I'm guessing Friedman regrets letting that one slip.
Well, here are a few of the highlights from this interview…
Sternberg says the stadium situation needs to be settled soon, but he would rather not do it now…
The groundwork needs to be done, starting very soon. You've got to figure out the proper location, whether it's 10 yards from where we're playing or 30 miles. Then you have to figure out if it's feasible. Then you have to go through the approvals and everything else…At some point in the next few years, we've got to have it figured out…I've chatted with the mayor. We've talked. I feel better than I did a year ago…I'd like to think we're going to be able to make progress. I really shy away from doing any of this in-season. Ideally, we'll tackle it in earnest at the end of the season.
Sternberg calls leaving the Bay Area "unrealistic" but eventually MLB could step in…
It's very unrealistic. If it's up to me, it's very unrealistic. There's certainly been a lot of discussion, from others within baseball, that we should get the hell out of there. It's not in my makeup to do that. I am committed to doing whatever I can, until I can no longer do it, to make it work there…The decision can be taken out of my hands at some point. If you haven't made any progress, and it's not working where you are, (MLB could say), 'We're going to duke it out. This team is going to be somewhere else, whether it's 10 miles away or 510 miles away.'
When asked if MLB can work in Montreal and whether MLB will ever have another team there…
Yes [it can work in Montreal]. I know it can…[Will MLB have a team in Montreal] In the next five years, no. In the next 20, yes.
The rest of the interview is all talking points we have heard before (e.g. "We could sign [Longo and Price]. It all depends on the total dollars per year and what we're willing to field around them.") but might be more interesting to a national audience.
Likes

(

0

)
Dislikes

(

0

)