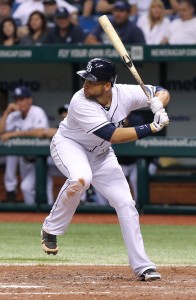 The GBT – The Good, The Bad and The Telling sandwich, where The Bad is nice and lean and the The Telling is ripe.
RAYS 8, Rockies 3 (boxscore)
THE GOOD: Rays Way. The Rays won 2 of 3 this weekend. I had to go back and check to make sure I wasn't misremembering. Because it was an ugly 3 games and it felt like the Rays didn't play well in any of them. But sure enough, they won the series, which is just typical Rays…James Loney. Despite starting just 21 of 30 games, Loney now has 33 hits. Those 33 hits rank 23rd in the AL. His seven 3-hit games are tops in baseball. And his .398 batting average would lead all of MLB if he had enough plate appearances. Miguel Cabrera (.385) is the current leader…Jake McGee. This is what Jake McGee should be now. Until he reestablishes another pitch, he is a 1 or 2 batter specialist to bridge the gap between the starting pitcher and Joel Peralta in the 8th inning. And the key is that the starting pitcher needs to at least get into the 7th inning.
THE BAD: David Price. The 9 earned runs he allowed on Saturday were the second most of his career. In 2009, he gave up 10 runs to the Phillies. But on that night, only 5 were earned. His 9 earned runs were the most in his career, eclipsing the 8 earned runs he gave up way back on April 7th of this year…Yunel Escobar. When he was hit on the wrist, there was an immediate fear that he had broken a bone and would be out a long time. That fear was based mostly on the idea that the Rays do not have a true backup shortstop. Sure Ben Zobrist can play shortstop. And while he won't make a ton of mistakes, he also doesn't have the quickness to be a very good shortstop. And when Zobrist has to move, that just opens a hole someplace else. Behind Zobrist is Sean Rodriguez (no thanks) and Tim Beckham, whom the Rays moved to second base, which shows you what they think of his shortstop skills. And then there's the idea that we were worried about losing a player hitting .174 with a .237 OBP. Of the 99 players in the AL with enough ABs to qualify, Escobar ranks 92nd. And his .233 wOBA ranks 94th. If Hak-Ju Lee wasn't injured would we have been as scared?
THE TELLING: Shelley Duncan cleared waivers and has accepted his assignment to triple-A…On Thursday, David Price will go head-to-head with RA Dickey. It will be just the 3rd time reigning Cy Young winners faced each other…The home run by Josh Rutledge (who also happens to be Laura McKeeman's boyfriend) was the first hit off of Matt Moore by somebody hitting 6th, 7th, or 8th. Those 3 spots were previously 0-33…Sunday's game was the first multi-error game of the season…The Rays are 14-16, 5.5 games behind the Red Sox. Most frustrating aspect of that is that the Rays have held a lead in 25 of their 30 games.
THE JUNKYARD DOGS WEBTOPIA…
Watching Durham Bulls Baseball writes about the no-hitter thrown by the Bulls yesterday. [WDBB]
They also noticed that former Rays outfielder Fernando Perez is now playing with the Sugarland Skeeters. That's the same independent club that Scott Kazmir and Roger Clemens recently played for. [WDBB]
Has James Loney just been lucky or has he changed his approach at the plate and finally realized his potential? [Fangraphs.com]
BJ Upton's .154 batting average is dead last in the NL, among 86 players with enough plate appearances to qualify. But hey, the Braves are encouraged by one opposite field double (where have I seen that 50 times before?). [AJC.com]
This article makes it sound like Tyler Goeddel, the Rays' first-round pick in 2012, is being groomed to be the next Ben Zobrist. [MiLB.com]
Here's a video of Evan Longoria talking about the "Tampa's Got Wings" program. [YouTube]
Derek Dietrich, the player the Rays traded for Yunel Escobar, is off to a good start in the Marlins organization. [FishStripes]
"Nudging" Josh Freeman in 2013. [JoeBucsFan]
DOWN ON THE FARM…
DURHAM 2, Pawtucket 1. Four pitchers combined on a no-hitter, led by Jake Odorizzi who allowed only 4 walks in 7 innings. He struck out 3…Wil Myers was 1-3 with a double and a walk.
Pensacola 8, MONTGOMERY 2. Mikie Mahtook went 1-3 with an RBI. He's hitting .248.
Brevard County 10, CHARLOTTE 2. DH Alejandro Segovia hit his 6th home run of the year. He also struck out 3 times…Drew Vettleson was 1-4 and is hitting .216 while Richie Shaffer went 0-4 and is hitting .220.
Clinton 5, BOWLING GREEN 2. Taylor Guerrieri allowed 2 runs on 8 hits with 4 strikeouts in 5 innings. His ERA is now 2.45…3B Tyler Goeddel went 0-4 and committed his 9th error of the season. Not a good day after the story above came out.
Likes

(

0

)
Dislikes

(

0

)