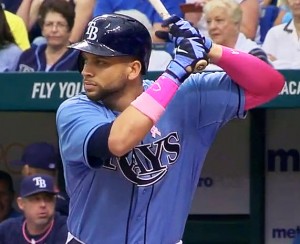 The GBT – The Good, The Bad and The Telling sandwich, where The Bad is nice and lean and the The Telling is ripe.
RAYS 4,  Padres 2 (boxscore)
THE GOOD: Sam Fuld. Fuld, starting in center set the tone early on Sunday with a long run and high jump against the wall to record an out in the first inning. You can see the replay and Roberto Hernandez fantastic reaction here…The Bullpen. The relievers may have finally rediscovered their swagger. The bullpen has not allowed an earned run in their last 13.2 innings and none in this 3-game sweep of the Padres. And Fernando Rodney has been the anchor. In his last 3 appearances, he has struck out 6 in 3 innings with just 1 hit and 2 walks. And he just seems more confident on the field…Alex Cobb. We don't ever think of Alex Cobb as a strikeout pitcher. But on Friday he struck out 13 in just 4.2 innings. And he became the first pitcher in recorded history to strike out every batter he faced in an inning and still allow a run (leadoff batter reached on a wild pitch, stole 2 bases, and scored on a balk).
THE BAD: Jeremy Hellickson. In a very typical Joe Maddon move, he saved his harshest comments for when the team is playing well. And the victim of those comments just happened to be Jeremy Hellickson who blew a lead in the wrong place at the wrong time. Holding a 6-2 lead in the 7th inning on Saturday, Hellickson walked the leadoff batter, and then gave up two 2-out hits, including a grand slam. Was Hellickson the first pitcher on the Rays to blow a lead this season? Nope. But he happened to do it when the team won, so that makes it a good time for Maddon to issue some harsh comments, saying "I'm not happy with that. I'm going to tell you, I'm not happy with that. Nooooo, I'm not happy with that. That's inappropriate. That's got to stop. We're better than that…We want to play in October, we got to be better than that. That cannot happen. You're not going to be lucky, you got to be good"…Yunel Escobar. Escobar's go-ahead RBI double in the 6th was a huge hit. But go to this link and watch the video. In particular, watch the replay at the 0:39 mark and tell me if you think Escobar is running hard. To me it looks like he is spending a little too much time admiring a ball that landed on the warning track. Ultimately, not running hard didn't impact the game. But Escobar has a reputation. And I did not watch Escobar enough to know if the reputation was deserved. But when you have the reputation, this is a bad look. And you can be sure Joe Maddon noticed.
THE TELLING: The Rays have now won 5 in a row and are 19-18. And yet they are still in 4th place, 4.5 games behind the Yankees…Accoridng to CoolStandings.com, the Rays have a 40.4% chance of making the playoffs, which is actually better than the Red Sox (39.6%) who are 2.5 games ahead of the Rays…Sean Rodriguez made his first start in right field since 2010 and just the 4th of his career…
THE JUNKYARD DOGS WEBTOPIA…
DOWN ON THE FARM…
Lehigh Valley 6, DURHAM 4. Alex Torres struck out 8 in 5.2 innings, but gave up 7 hits, 3 walks, and 6 runs (4 earned)…Shelley Duncan went 0-4 and is 6-28 in 7 games since being demoted.
Birmingham 7, MONTGOMERY 3. Kevin Kiermaier had 3 hits and his 6th stolen base. He is now hitting .308.
CHARLOTTE. no game scheduled
BOWLING GREEN 8, Lake County 0. Taylor Guerrieri struck out 10 of the 18 batters he faced and walked 2 in 5 shutout innings. He allowed just 1 hit…Andrew Toles had 2 hits and 3 stolen bases. He has now swiped 18 this season…Tyler Goeddel had a double and his 1st home run. He drove in 3.
Likes

(

0

)
Dislikes

(

0

)