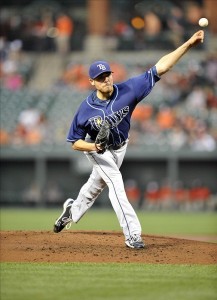 The GBT – The Good, The Bad and The Telling sandwich, where The Bad is nice and lean and the The Telling is ripe.
RAYS 6, Orioles 2 (boxscore)
THE GOOD: Matt Moore. He finally gave up some runs. And he never felt overly dominant. But he kept the Orioles in check and worked into the 7th inning. Moore is a 6-inning pitcher. And anytime he works into the 7th inning or beyond should be considered a bonus. His didn't have his good fastball last night, as it sat about 91-92 most of the evening. This led him to rely a little more on his curve/slider (whatever you want to call it) than usual. He threw 30 curve/sliders, getting a solid 6 swing-and-misses…The Bullpen. When the Rays have the lead and the pitcher works into the 7th inning, it works right into the strength of the Rays. That is, the two-headed combo of Jake McGee and Joel Peralta are responsible for the 7th and 8th innings. If there is less than 6 outs to get, Joe Maddon can be more selective of which batters those pitchers will face. And let's face it. McGee is a great talent. But when you are a fastball/fastball pitcher, you are more effective against one or two batters than three or four…Bottom of the Order. There won't be a lot of nights when the bottom of the order carries the team offensively, so let's enjoy this one. Shelley Duncan homered and added another hit and a walk. And James Loney was 3-3 with a walk. Even Yunel Escobar was 1-3 with a walk and hit a couple of balls hard.
THE BAD: Shelley Duncan. In the 6th inning, the Rays were clutching to a 2-run lead and Matt Moore's pitch count was rising. So bonus runs seemed important at the time. So when James Loney doubled, Shelley Duncan seemed like a lock to score the Rays' fifth run. But then Duncan missed second base, had to go back and ended up at third. There was still just one out. However, when Jose Molina hit a groundball, Duncan wasn't going home on contact, but then he decided to go, and then he decided not to go. But by that point it was too late and he was out.
THE TELLING: Joe Maddon was ejected after a close call at second base. It was his first ejection of the year and the 28th of his career. He had 4 ejections in 2012…Yunel Escobar was dropped to 9th in the order…It doesn't sound like Luke Scott is close to returning…The Rays are now 5-9, one-half game behind the Jays and 5 games behind the Red Sox.
THE JUNKYARD DOGS WEBTOPIA…
Carl Crawford got a stern lecture from Major League Baseball. [BI Sports]
Kyle Farnsworth did a Q&A with Fangraphs.com. [Fangraphs]
DOWN ON THE FARM…
DURHAM 6, Charlotte 2. Wil Myers went 1-5 with 2 strikeouts….SS Hak-Ju Lee was 1-3 with 2 walks. He has now been on base 27 times in 13 games.
MONTGOMERY 3, Mobile 2. Mikie Mahtook went 0-4 and is now just 9-50 to start the season (.180).
CHARLOTTE 5, St. Lucie 2. Jesse Hahn struck out 6 in 3 shutout innings. He walked none and allowed just 1 hit…CF Drew Vettleson was 2-3 with a double and a walk…3B Richie Shaffer hit his 1st home run of the year.
BOWLING GREEN @ Great Lakes. postponed
Likes

(

0

)
Dislikes

(

0

)