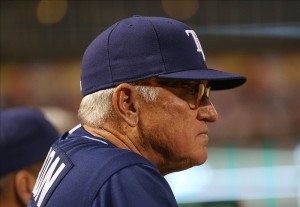 The GBT – The Good, The Bad and The Telling sandwich, where The Bad is nice and lean and the The Telling is ripe.
Rangers 6, RAYS 1 (boxscore)
THE GOOD: Desmond Jennings. The do-it-all leadoff hitter did his job with two doubles, including a leadoff double in the third. He would eventually score the Rays' only run…Roberto Hernandez. It wasn't his best stuff by any means, but after David Price worked just 5 innings on Sunday and Jeremy Hellickson worked just 5 innings on Monday, Joe Maddon needed innings from Not-Fausto. And the big right-hander worked into the 7th inning, throwing 113 pitches.
THE BAD: Major League Debuts. I once taught a stats class, so I am a big fan of numbers. But sometimes I wonder if the Rays are so tied to the numbers that they lose their natural instincts as athletes. This seems to come to light every time the Rays face a pitcher making his big league debut and for which the Rays have limited or no scouting data. Last night was the latest example as Nick Tepesch made his debut a good one, working into the 8th inning and allowing just one run…Bad Shift? In the bottom of the third, just after the Rays had taken a 1-0 lead, the Rangers had a runner on first base with one out. Ian Kinsler then hit a routine groundball to the right of Yunel Escobar that should have been an easy double-play. But if you look at the replay from above, you can see that Escobar had moved in and closer to second base. The result was that the ball went to the outfield. Both runners would score on Lance Berkman's basehit two batters later and the Rangers had a lead they would never surrender. Was Escobar shifted to the right on Maddon's orders? Was he cheating in anticipation of a stolen base? Either way, it seems strange that he was so shallow and close to second base bag for a right-handed batter…Dinks and Dunks. It felt like the Rangers didn't hit a ball hard all night. It was just one of those nights where the ball just kept finding a spot where a fielder wasn't. Sometimes it was the Rays' fault (see above) and sometimes it was just bad luck.
THE TELLING: Remember when the Rays and Blue Jays were the favorites in the East and the Red Sox and Yankees were supposed to battle for last place? The Rays are 3-5, 2.5 games behind the Red Sox and one-half game ahead of the Jays for last place…Luke Scott took batting practice and appears to be nearing a rehab stint.
THE JUNKYARD DOGS WEBTOPIA…
Rays announce their first post-game concerts: Kenny Loggins (5/11) Martina McBride (6/8) Imagination Movers (6/16) Carly Rae Jepsen (7/14) Victoria Justice (8/18).
Guess what Jeff Niemann is blaming his shoulder surgery on (hint: it rhymes with foolpen). [TampaBay.com]
Several of the Rays still do not want instant replay on balls and strikes even after the blown call from Monday night. [TBO.com]
A new Roberto Hernandez? He used his changeup more in the first start, something that continued in his start last night. [Fangraphs]
Marlins traded away their best players, but they still have half-naked dancers on their television broadcast. [BI Sports]
DOWN ON THE FARM…
DURHAM 12, Gwinnett 8. Alex Torres threw 5 shutout innings. He struck out 3 and walked 1…RF Brandon Guyer hit his 2nd and 3rd home runs of the season and drove in 5…DH Wil Myers was 2-5 with 2 Ks and is 7-21 in 5 games…SS Hak-Ju Lee was 1-4 with 2 strikeouts.
MONTGOMERY. no game scheduled
CHARLOTTE 6, Bradenton 2. Ryan Carpenter tossed 5 shutout innings with 7 Ks and no walks…RF Drew Vettleson was 0-3 with a walk and is 3-17 to start the season.
BOWLING GREEN 8, Lansing 3. RF Marty Gantt had two hits and hit his 2nd home run.
Likes

(

0

)
Dislikes

(

0

)