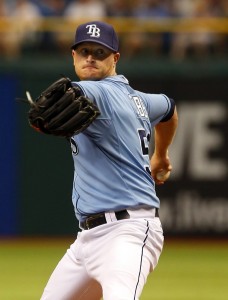 One of the biggest concerns with young starting pitchers is their workload and easing them into a 200-innings pitched season. Whether or not you believe in "The Verducci Effect," the Rays typically prefer to limit their starting pitchers to a 20% increase in innings from one season to the next. If a pitcher exceeds that mark, they could be at a higher risk for injury or tired arm in the next season.
Last year, there weren't any major warning signs as three pitchers entered the 2012 season having increased their innings by approximately 20% the season before. And outside of Jeff Niemann's injury, the starters performed very well.
So let's take a look at how much the pitcher's were used in 2012 and if there are any red flags…
David Price, Matt Moore, and Jeremy Hellickson were consistent from 2011 to 2012 (the lack of playoffs certainly helped) and should be free to throw as many innings as is needed. Chris Archer is not quite green-lighted for 200 innings, but he is close. And both Jeff Niemann and Roberto Hernandez have limits that will be based more on how they rebound from limited workloads a year ago.
But the red flag is obviously Alex Cobb. Joe Maddon says Cobb is "ensconced" in the rotation. But after throwing nearly 50% more innings last year as compared to the year before, you can be certain that the Rays are keeping a close eye on their young pitcher.
The good news is, Cobb is not a max-effort pitcher. That is, he is not a guy throwing 98 and he doesn't throw a slider. So there might be less strain on his shoulder and elbow than other pitchers. Still, the Rays have plenty of options for the rotation, so don't be surprised if Cobb is given an occasional breather or even a trip to the DL with a mystery injury.
Likes

(

0

)
Dislikes

(

0

)