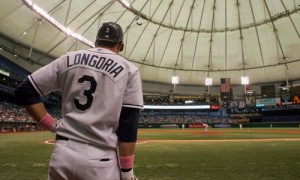 A St. Pete City Council member wants to amend the Rays' contract with the city to allow them to look at potential stadium sites outside of Pinellas County. There is just one small big catch: They want a big check first (via TBO.com)…
Councilman Charlie Gerdes proposes amending the contract with the Rays to allow the team to negotiate with developers and other local governments in Pinellas and Hillsborough counties to find a new stadium after paying the city an "exploration" fee [of $1.4 million]… the proposal would not release the Rays from their commitment to play at Tropicana Field through 2027 nor let them negotiate to play at another site sooner. If the Rays found another site, they would still have to then negotiate with the city to break their lease…"It gives them permission to look, not leave," Gerdes said.
I honestly have no idea what to make of this proposal. On the one hand, it is at least something. At least somebody is doing something. But it also seems just a tad silly to expect the Rays to fork over $1.4 million just to look with no guarantee that they will be able get out of their contract at The Trop. I would be surprised if this goes anywhere. But we always knew people were going to have to get creative. And it looks like some people are finally doing just that.
The city council will discuss the proposal on Thursday.
Likes

(

0

)
Dislikes

(

0

)