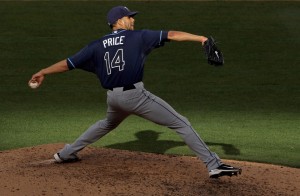 Jon Paul Morosi of FoxSports.com spoke with David Price about his future with the Rays. And while this is basically the same thing Price said a month ago, this is probably going to be a big story today. In addition to saying he's "not taking a discount" when it comes to a long-term deal, Price explains why it is so important that he get as much money as possible…
"I don't play this game for the money, but I don't want to be underappreciated…What I've done for this organization so far, I feel like I've helped this organization a great deal. So if they want to show me some appreciation, then fine."
If that sounds familiar, it is because Price said almost the exact same thing back in January…
"I want to be happy. I don't want to sell myself short. I guess 'appreciation' is the word I could use the most. I just want to feel appreciated."
Like we explained back in January, to the top-tier players, the actual money is not as important as the symbolism of how much they make. To them it is a sign of where they rank amongst their peers. And to them it is a sign of how much the team appreciates what the players means to them.
If you are looking for a silver lining, you can take comfort in another quote from the same story, in which Price says he wouldn't sign a long-term contract with the Yankees because of their old-school rules (e.g. no beards allowed). "I was born in '85," said Price. "That's not for me. That's not something I want to be a part of."
Of course, this probably makes Price's agent cringe. And player looking for a $200 million will have an easier time if the Yankees are at least in on the bidding.
Likes

(

0

)
Dislikes

(

0

)