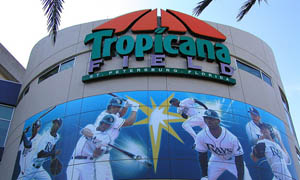 Yesterday it was reported in multiple outlets that Michael Kalt of the Rays compared the Tropicana Field population base to that of a minor league ballclub, noting that it is smaller than "eight AAA clubs."
The Rays have clarified Kalt's comments. We have been told that he was referring specifically to minor league clubs "in markets without MLB." They list those cities as Las Vegas, Charlotte, Indianapolis, West Sacramento, Oklahoma City, Louisville, Norfolk, and Nashville.
This list is still questionable and troublesome.
You can argue that many of these cities are "big league markets," but don't have big league teams for various reasons. Vegas is never getting an MLB team because of the sportsbooks. Both West Sacramento (Oakland), and Louisville (Cincinnati) are within 100 miles of big league teams. Indianapolis is only 115 miles from Cincinnati.
That leaves Charlotte, Oklahoma City, Norfolk, and Nashville. Three of these cities already have pro sports teams. And these cities also happen to be four cities that are regularly mentioned as possible moving points for the Rays.
Again, this is not meant to downplay the significance of the Trop's population base. It's bad. But saying it is dead-last by a wide margin among Major League teams should be sufficient. And comparing it to the cities listed above makes it sound like some secretly wonder if one of those locations would be a better home for the Rays.
Likes

(

0

)
Dislikes

(

0

)