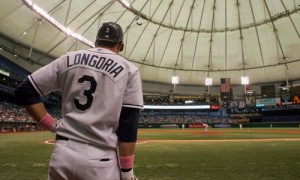 If you have been hanging around these parts for a while, you know that the model for this site is to tell you what the Rays have done, what they are doing and try to project what they will do based on what we have learned. Think of RI as "Tampa Bay Rays 101." However, for the next 12 days we will step away from the standard, and we present to you 12 "presents" the Tampa Bay Rays should give to their fans.
Without further ado…
On the sixth day of Raysmas, the Tampa Bay Rays gave to us, SIX HEALTHY MONTHS OF EVAN LONGORIA…
Let's face it. We can talk about who the Rays can acquire to be the DH until we have sunbursts shooting out of our butts. But unless the Rays can get 150+ games from Evan Longoria, the offense is going to be inconsistent at best, and no-hittable on a nightly basis at worst.
Has he just been unlucky? Has he worked out too much in the offseason? Does he party too much? Are the Rays trainers awful at their job? Has he been less than honest about injuries in order to push a return earlier than he should have? I have heard all of these excuses and have no idea which is true. Longo may not even know.
But the Rays need to hope for some thing better than the 74 games that Longoria played in 2012.
Likes

(

0

)
Dislikes

(

0

)