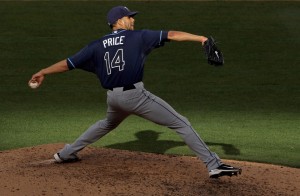 If you have been hanging around these parts for a while, you know that the model for this site is to tell you what the Rays have done, what they are doing and try to project what they will do based on what we have learned. Think of RI as "Tampa Bay Rays 101." However, for the next 12 days we will step away from the standard, and we present to you 12 "presents" the Tampa Bay Rays should give to their fans.
Without further ado…
On the third day of Raysmas, the Tampa Bay Rays gave to us, A THREE-YEAR CONTRACT FOR DAVID PRICE…
At this point, there is almost no chance the Rays will ever sign David Price to a contract beyond the 2015 season when he will be eligible for free agency for the first time.  Price is probably already worth $25 million per year if he were a free agent now. And Price's agent says his client wants "the best contract in baseball."
But if Rays fans want Price to stay here as long as possible, that will likely only happen if the Rays and Price agree to a 3-year deal covering his arbitration years. A three-year contract at this point is less about saving money (although the Rays might save a little). Rather, a three-year deal would be about adding cost-certainty to the roster.
While we can project what players will make in arbitration, that task becomes much more difficult for the upper-level players. Last year, Tim Lincecum went to arbitration asking for $21.5 million and the Giants were offering $17 million. That $4.5 million difference is huge for a team like the Rays. It could be the difference between signing a designated hitter or being stuck with Sean Rodriguez as a starter.
The Rays can afford some large contracts. But for a team that is as methodical as the Rays, what they can't afford is uncertainty. And who knows. Maybe, just maybe, the Price will be willing to throw in an option year. But let's not get too greedy.
Likes

(

0

)
Dislikes

(

0

)