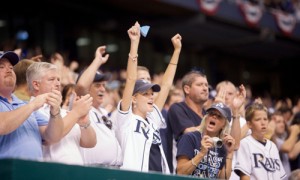 Keith Olbermann is the latest to pile on the state of Florida and what is perceived as a lack of support for baseball. In his reaction to the Marlins latest payroll-slashing trade, Olbermann unleashes a cluster bomb over the entire state…
…the Marlins are officially the Montreal Expos of the 2010′s and baseball is unofficially dead in Florida…Notice I did not write South Florida. All of it. Rays' owner Stu Sternberg was already less than sanguine about getting significant scratch from the state and local governments for a new ballpark that is absolutely essential to his survival in Tampa/St. Petersburg. If he had any hopes left after the disastrously low crowds for the free ballpark the good burghers of Florida gave Jeffrey Loria, they have to be gone now and he has to be looking elsewhere.
Let's ignore for a second that everybody (except apparently Mr. Olbermann) already knew the Rays were not getting the same deal as the Marlins and that financing a new stadium is going to require a good deal of private investment as well as some creative taxes. So the stadium situation in Miami is not changing anybody's expectations in the Bay Area.
No, the bigger issue is that Olbermann, like most of the national media, is still looking at baseball through antiquated lenses. Do teams want large attendance figures? Of course. But baseball is no longer driven by ticket sales.
Just look at the recent sale of the Los Angeles Dodgers, a team that was purchased for $2 billion, in large part because of their upcoming television deal which will increase revenue significantly.
In fact, television deals are skyrocketing in baseball. And Olbermann is suggesting Major League Baseball completely abandon a state that has three of the 20 largest television markets in the country.
Not. Gonna. Happen.
Unlike the NFL which is more popular on the national level, baseball is still a localized sport. And the lifeline of baseball is now the local television deals.
Baseball in Tampa-St. Pete is not ideal. But as long as television ratings remain strong for the Rays, baseball isn't going anywhere.
Likes

(

0

)
Dislikes

(

0

)