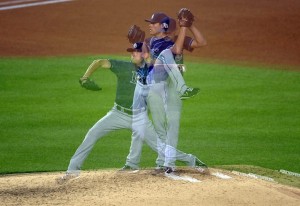 The GBT – The Good, The Bad and The Telling sandwich, where The Bad is nice and lean and the The Telling is ripe.
Rats 5, RAYS 2 (boxscore)
THE GOOD: Done. Not having to play the Rats again is a good thing. Good riddance.
THE BAD: Non-error Errors. In the 3rd inning, it was a 1-out flyball to shallow center field. Some think BJ Upton forgot how many outs there were and eased up as the runner on third raced home. But we think Upton just assumed nobody would dare run on his arm, and when they did, it was too late, and Upton had to throw home off the wrong foot. Then, in the 6th inning, the score was tied 2-2 with 2 outs and the bases empty when Desmond Jennings overran a flyball to the warning track and played it into a double. The inning should have been over. Instead, two batters later, another double drove in two and the Nationals took an insurmountable 4-2 lead…Joel Peralta. We noted last night that Peralta seemed amped up and was throwing harder than he had all season. Well he was at it again last night, even falling off the side of the mound much like JP Howell would. And it might have hurt him. Of course, he didn't get any help from Desmond Jennings in left field, but Peralta could have still saved the situation, and didn't.
THE TELLING: Jeff Keppinger will rejoin the Rays today. It would seem like Matt Joyce will be headed to the DL…The Rays are 3.5 games behind the Yankees and 1 game behind the Orioles.
THE JUNKYARD DOGS WEBTOPIA…
Matt Joyce is still hoping to not go on the DL, but doesn't sound very optimistic. [TBO.com]
Did the Bucs have the best off-season of any NFC team? [JoeBucsFan]
DOWN ON THE FARM…
DURHAM 14, Rochester 8. Matt Torra gave up 5 runs in just 4 innings raising his ERA to 4.70….C Stephen Vogt went 4-6 raising his average to .304…DH Jeff Keppinger went 3-4 with a double in his final rehab start…LF Leslie Anderson had 2 more hits and is hitting .316…1B Brandon Allen added a pair of doubles.
MONTGOMERY 7, Mobile 6. Alex Colome gave up 1 run in 6 innings on 4 hits and 3 walks. He struck out 4…SS Hak-Ju Lee went 3-5 with a double and stole his 23rd base. He is hitting .249.
Bradenton 10, CHARLOTTE 3. Kyle Farnsworth pitched a scoreless inning in his rehab appearance, giving up just 1 hit…CF Mikie Mahtook went 3-4 with a double and a triple and is now hitting .282 and has 4 extra-base hits in his last 2 games.
BOWLING GREEN. no games scheduled
Likes

(

0

)
Dislikes

(

0

)