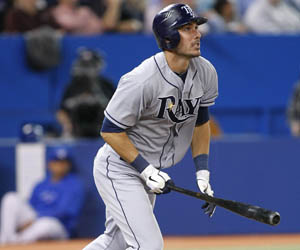 The GBT – The Good, The Bad and The Telling sandwich, where The Bad is nice and lean and the The Telling is ripe.
RAYS 12, Jays 2 (boxscore)
THE GOOD: Lineup. Joe Maddon tinkered with the lineup, moving Ben Zobrist up to the 2-hole, shifting Carlos Pena and Evan Longoria down a slot. The result was 12 runs…Bullpen. It was already a good lead by the time David Price was pulled, but it was still nice to see three key members of the bullpen (Joel Peralta, Wade Davis, JP Howell) combine for 3.1 scoreless innings, striking out 6 and walking none…Sweet Swingin'. Matt Joyce is absolutely locked in right now. Two doubles and his third home run. And one of those doubles was nearly another home run. Let's just sit back and enjoy the view…Wolverine. Luke Scott is another red hot bat right now, hitting his 3rd home run last night, a grand slam…GTMI. The Rays went with the power last night, but the most important run may have come in the second inning. After Matt Joyce doubled, Jose Molina grounded out to the right side moving Joyce to third. Then Sean Rodriguez brought Joyce home with a sac fly. For a team that has struggled getting men home, it was nice to see a manufactured run early in the game.
THE BAD: Reid Brignac. Briggy plays because of what he can do with the glove. Still, after going 0-2 yesterday, he is now just 2-17 with 1 walk to start the season. The Rays don't need a lot of offense from Briggy, but they need more than that.
THE TELLING: The Blue Jays have asked MLB to review one of Evan Longoria's three errors from Tuesday night…BJ Upton went 0-6 in a double-header in the final games of his rehab assignment.
THE JUNKYARD DOGS WEBTOPIA…
Lefty Ricky Romero sounded a little annoyed at the idea that Joe Maddon would use 9 lefties against him if he could. [Toronto Sun]
The Rays have signed Lance Pendleton, a minor league pitcher with a bit of big league experience. [TampaBay.com]
DOWN ON THE FARM…
Charlotte 4, DURHAM 3. Chris Archer gave up 4 runs in 4 innings and has now allowed 14 runs and walked 13 in just 12.2 innings. He has struck out 11…Ryan Reid tossed 3 scoreless innings of relief, striking out 2…SS Tim Beckham went 0-4 and is now hitting .216, while RF Brandon Guyer had 3 singles in 4 at bats. He's at .235…DH Leslie Anderson continues to get on base, going 1-2 with 2 walks. He is now 20-43 (.465) with a .500 OBP. And in 11 games he has 4 walks with just 5 strikeouts.
Mobile 3, MONTGOMERY 1 (game 1). Kyle Lobstein struck out 7 in 5.1 innings, but walked 5 and threw a wild pitch as he allowed 2 runs on 2 hits…SS Hak-Ju Lee went 0-3 and BJ Upton played center field in the first game and went 0-3.
MONTGOMERY 6, Mobile 2 (game 2). Joe Cruz picked up his first win with 5.2 innings, giving up 2 runs on 2 hits and 3 walks. He struck out 4. Both hits were solo home runs…SS Hak-Ju Lee had a single in 4 at bats, but is still just 11-56 (.196)…BJ Upton went 0-3 as the DH…RF Henry Wrigley hit his 5th home run.
CHARLOTTE. (no game scheduled)
BOWLING GREEN 5, Great Lakes 4. Parker Markel allowed 4 runs in 6 innings, and now has a 4.50 ERA in 3 starts…RF Drew Vettleson had 2 hits to up his average to .267. He also stole his 3rd and 4th bases.
Likes

(

0

)
Dislikes

(

0

)