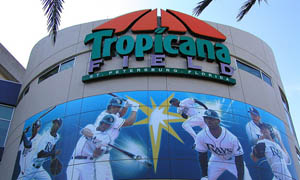 The column is entitled "Power Rankings: No. 4 Rays." So naturally, we would expect this piece to be about how the Rays will perform in the AL East this season. Good lord do we feel like friggin' idiots. Not. Even. Close.
The entire column is about whether or not the Rays will "vanish" from the Tampa Bay area.
The Rays are dead in the water at Tropicana Field, and even St. Petersburg Mayor Bill Foster knows it. That's why he finally is dropping his cold-war approach to a lease that Vince Naimoli signed as he was paying MLB's expansion franchise price of $130 million in 1995.
Huh? When did this happen? Just last month, Foster came out of a meeting with Stuart Sternberg "confident that Sternberg and the Rays organization are prepared to honor their current contract through 2027." Does that sound like Foster is dropping his "cold-war approach"? Or does it sound more like Khrushchev pounding his shoe*?
Whatever Richard Justice was for Sternberg, apparently Rogers is for Mayor Bill Foster. In other words, we, the fans, are getting played (and screwed) by both sides.
Go on…
Foster has shown a willingness to negotiate an early end to the lease, which would allow the Rays to explore a stadium in downtown Tampa or near the intersection of I-4 and I-75, east of Tampa.
ARE YOU F#@%ING KIDDING ME?!? Did Phil Rogers just make this shit up? First of all, WHAT DOES ANY OF THIS HAVE TO DO WITH THE 2012 RAYS? Second of all, SHUT UP! Just SHUT. THE EFF. UP!
Foster has never been willing to allow the Rays to explore a stadium in Tampa. THAT'S THE ENTIRE PROBLEM.
*head hits desk*
Rogers goes on to speculate about the Rays moving ("Portland, Ore., is the best market but Charlotte, N.C., and Las Vegas are possibilities") and even contraction ("could contraction be on the agenda at some point") even though EVERYBODY including Bud Selig have said contraction is not a possibility.
Oh, and by the way, nothing in this column on the 2012 Rays. Not. One. Sentence. Some power rankings Phil.
Remember when we kept saying this would get worse before it got better? Welcome to 2012 folks, where nobody wins, and only the fans lose.
P.S. Sorry about all the yelling. But F*ck the Heck?
* Yes, we know that the shoe-pounding incident may have never happened (there were conflicting reports and no photos), but it is still one of the enduring mental images of the cold war.
Likes

(

0

)
Dislikes

(

0

)