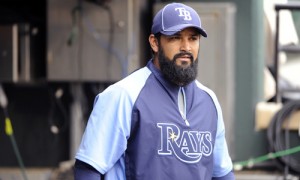 Dave Martinez still has work to do with the Rays in the playoffs. But these may also be Martinez' last games in a Rays uniform.
According to Rays consigliere Ken Rosenthal, Martinez is at the top of the wishlist in Chicago to be the White Sox new manager.
General manager Ken Williams continues to work off his short list, the source said. Rays bench coach Dave Martinez, according to a second source, is at the top of that list. Martinez, a former outfielder, played for the White Sox from 1995 to '97.
In addition to playing for both the White Sox and Cubs, Martinez' wife is from Chicago and one of his children plays soccer at Northwestern.
When asked if he was ready to be a big league manager, Martinez said "Definitely," but added that his focus is with the Rays right now.
Joe Maddon said Martinez would be "very difficult to replace," but that he would do "somersaults" if Martinez got the job.
Another team that is quite familiar with Martinez, the Boston Red Sox, also find themselves looking for a new manager. And while nobody is certain if Martinez is a candidate for that job, there is plenty of speculation in Beantown that Martinez is a potential successor.
Likes

(

0

)
Dislikes

(

0

)