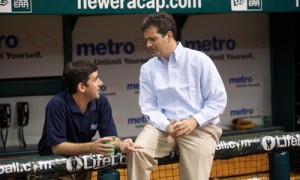 Last night was the Tampa Bay Sports Commission's "Sneaker Soiree" celebrating "excellence in sports business." Among the attendees was Rays principal owner Stuart Sternberg.
During a roundtable discussion, Sternberg was asked by the M.C. what he has learned about the Tampa Bay area that he didn't know before he took over the Rays six years ago.
"Water is a big divide," said Sternberg. After the rousing applause, Sternberg added "[and] the willingness of people to navigate bridges."
Yikes. We love you Stu. But these are the people that you (or somebody else) is going to ask to pay for a stadium in the near future (maybe in Channelside). Making fun of their lack of desire to cross the Howard Frankenstein during rush hour is not going to win many votes during that inevitable referendum.
Likes

(

0

)
Dislikes

(

0

)