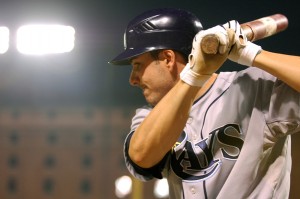 So yesterday we heard from Joe Maddon (via The Ray Area) that Matt Joyce will not be an everyday player at the start of the season. Rather, Joe Maddon will ease Joyce into the lineup with occasional starts versus "reverse-split lefties" (lefties that are harder on right-handed hitters than they are on left-handed hitters).
On the surface that seems like a good plan. Even we were sold. But then we wondered: how often will the Rays face a reverse-split lefty? Based on last year's scheduled, we estimate that this happens once every 2 weeks, at most. That is once every 12-15 games.
Is 2-3 plate appearances every 2 weeks going to teach Joyce how to hit lefties? We are skeptical. So if this plan is going to work, he is going to have to start Joyce against more lefties than just the Jon Lesters of the world. Maybe not all of them, but certainly more than just the true "reverse-split" lefties.
THE JUNKYARD DOGS WEBTOPIA…
Roger Mooney and Scott Butherus discuss the Rays lineup in a podcast. [TBO.com]
Newly acquired reliever Dirk Hayhurst has been an instant hit among Rays fans. But based on our own personal experiences, we are actually much more fascinated with the work of Mrs. Hayhurst. So please read this. [Dirk Hayhurst]
Oh Pat Burrell, you will always

be THAT guy. THAT might work for you. But in the end, it is creepy and shallow. So, no, we do not envy you. Never have, never will. [Barstool Sports]
Interesting…one ESPN.com writer predicts what the 2011 season will be like with Manny Ramirez. [ESPN]
Are the Rays still a notch below the Yankees in the AL East. Even we, ever the pessimists, aren't sure the Yankees are better than the Rays right now. [NY Baseball Digest]
Likes

(

0

)
Dislikes

(

0

)