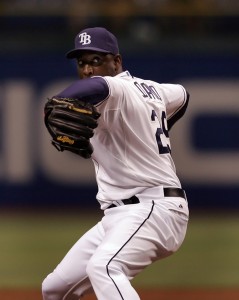 If you have been hanging around these parts for a while, you know that the model for this site is to tell you what the Rays have done, what they are doing and try to project what they will do based on what we have learned. Think of RI as "Tampa Bay Rays 101."
However, for the next 12 days we will step away from the standard, and we present to you 12 "presents" the Tampa Bay Rays should give to their fans. Looking back at last year's 12 Days of Raysmas, we see that many of our wishes came true (including that sweet no-hitter), and the result was another division title.
Without further ado…
On the twelfth day of Raysmas, the Tampa Bay Rays gave to us, TWELVE million dollars added to the payroll…
Stuart Sternberg said the 2011 payroll would be below $60 million. The exact amount obviously depends on the free agency market, how things unfold and who is available.
At this point, the Rays are committed to about $38.1 million for the 2011 season. That seems to leave plenty of room for the $5 million hitter we asked for on Day 1 (Jim Thome or Johnny Damon), and a $7 million closer named Rafael Soriano. Yeah, that would be nice. Or maybe Thome or Damon and another right-handed bat.
And that would still only leave the payroll in the neighborhood of $50 million. And that team might actually be good enough to compete.
Likes

(

0

)
Dislikes

(

0

)