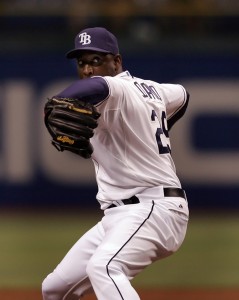 We already heard that Rafael Soriano's free agency was only about making the most money when Buster Olney reported that Soriano would sign to be a bullpen catcher if the team paid him enough. So he is a greedy bastard. Most people are.
But now we learn that Soriano was not well-liked among people in the Rays organization. In fact, according to Bill Madden, most hated Soriano…
But losing his No. 1 draft pick wasn't the only thing that bothered Cashman about signing Soriano. The 31-year-old Dominican's makeup is – and should be – of great concern. Despite his league-leading 45 saves and 1.73 ERA, Soriano was hated by almost everyone in Tampa Bay last year. His periodic hissy-fits over being brought into games in non-save situations, or being asked to pitch more than one inning wore thin on Rays manager Joe Maddon. The final straw was the last game of the season – Game 5 of the ALDS versus Texas – when Maddon asked Soriano to pitch the ninth inning with the Rays trailing, 3-1. After throwing a tantrum in the bullpen in front of all his fellow relievers, Soriano trudged into the game and promptly gave up a single to Nelson Cruz and a game-breaking homer to Ian Kinsler.
Oh yeah. They're going to love him in New York. Unless you regularly pee your pants, you probably shouldn't be throwing hissy fits.
MFIKY was extremely popular among Rays fans because he was a character and he provided 9th inning insurance that Rays fans have rarely known. But hearing this news should make it easier to boo Soriano when he shows up at The Trop in pinstripes.
Likes

(

1

)
Dislikes

(

0

)