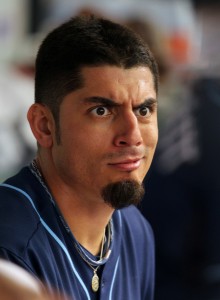 In the past week, the Rays have lost three players that had accounted for six All-Star appearances, three MVP top-10 finishes and two Gold Gloves. Now they may be ready to trade the only guy in team history to throw a no-hitter.
Ed Price of Fanhouse.com has a big league source that is "certain" the Rays will trade Matt Garza. The Source also predicts Garza will be dealt to the Cubs.
Keep in mind, this may just be speculation on the part of the source. There is no indication that they have any insider information from the Rays or Cubs. There is also no indication that a deal is imminent.
Previously we heard that the Rays would wait until July to try and trade Garza because they didn't like they offers they were receiving now. We also heard that a deal to the Cubs was "unlikely."
But Buster Olney has a different take. He spoke with "rival executives" that think the Rays should trade Garza now because he might actually be too expensive in July which may make a deal impossible during the season.
Olney says the Royals are expected to put Zack Greinke on the trade market once Cliff Lee signs. Teams that need a starting pitcher may start knocking on the Rays door if they deem the price for Greinke to be too much.
Likes

(

0

)
Dislikes

(

0

)