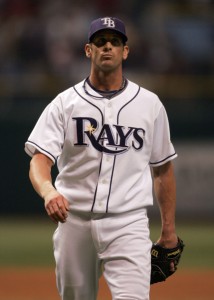 The Rays offered arbitration to free agents Grant Balfour, Carl Crawford, Rafael Soriano, Randy Choate, Brad Hawpe, Joaquin Benoit and Chad Qualls. The Rays declined to offer arbitration to Dan Wheeler or Carlos Pena.
Offering a free agent arbitration is necessary if the Rays want to receive draft pick compensation if those free agents sign with another team. The risk is that the player could decide they will get more in arbitration than on the free agent market. If the player accepts the offer, the Rays could be stuck with a player they don't want or at a price they don't want to pay.
In the cases of Wheeler and Pena, both would have almost certainly accepted. The Rays may want both players back, but they don't want to pay what either could have gotten in arbitration.
Balfour and Qualls could choose to accept arbitration and the Rays may be more than happy to have both back on one-year deals at a salary similar to what they made last year.
Crawford, Soriano and Choate will decline arbitration knowing they will get more money and years on the free agent market. And Benoit has already signed with the Tigers. Offering him arbitration is just a formality to make sure the Rays receive a compensation draft pick.
THE JUNKYARD DOGS WEBTOPIA…
Likes

(

0

)
Dislikes

(

0

)