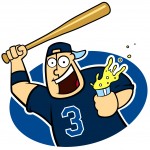 The Rays were down to their last six outs, but they won 6-3 going away.
All of a sudden, Joe is feeling pretty good. Joe's all buckled up in the rollercoaster and screaming like a girl. 
While the "W" to pull them to 2-1 in the ALDS series is only one win, Joe's quite certain the Rays picked up a mental edge on the Rangers, especially with the 16-hour turnaround until Sunday's first pitch in Game 4.
If you're a Rangers fan and a Rangers player, then you feel like you choked big time. Given the Rangers' lack of playoff experience, that can only help the Rays.
Joe's going to drink every ounce of Kool-Aid and believe Carlos Pena has snapped out of his funk, finding a way to look not just a hitter today, but a dangerous one. And he rectified the crappy defense he showed in Game 1. Surely, he can find it in himself to not look lost tomorrow. Hey, ya gotta believe. That's all Rays fans have left right now.
John Jaso and Dan Johnson cranked out huge hits, and the pitching finally looked like what won games for the Rays all season long. And what do you know, Joaquin Benoit can pitch more than one inning. What a concept.
Still plenty of good seats available for Game 5 at the Trop.
Likes

(

0

)
Dislikes

(

0

)