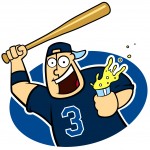 The Rangers played playoff baseball today, attacking fastballs, swinging 3-0, and taking on a road game with no fear.
The Rays got beat. They didn't beat themselves.
Joe knows some will take it out on Carlos Pena because he's so far from being a good hitter it's scary. Plus today he couldn't field, either. Did Joe Maddon really need to bat him fifth? FIFTH!
But for Joe it really comes down to the Rangers were the better team, which is what has Joe heading now to Ferg's to ease his pain. Yes, that Ferg's, where playoff tickets for just $20 were plentiful before the game.
Nothing feels good about now. And the thought of James Shields in a must-win game — after he tanked one last week — is a Miller Lite moment.
The Rangers paid the price for Cliff Lee this summer, when Joe and loads of other Rays fans felt that was a consolation prize because the Yankees didn't get him. Even though he would have been a stunning and smart acquisition for the Rays.
So now there's Game 2 tomorrow. Joe's hoping Maddon's computer can spit out a winner.
If it means anything, Evan Longoria spewed his theory on postgame baseball games on the Rays Radio Network following the good guys clinching the AL East, "It's a coin flip," he said  …The Rays need one of those two-headed ones about now.
Likes

(

0

)
Dislikes

(

0

)