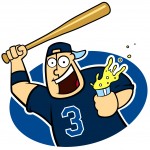 The fancy white board in the Maddon-Friedman cone of statistics silence in the bowels of the FruitDome has got to get a big red line right through James Shields' name.
Hopefully, Shields made it easy, after getting bombed by the Royals tonight, for the Rays' scientists to see what's painfully obvious to even Shields' biggest fans — and Shields himself.
He's 0-4 in September. He's lost all confidence. He was a good pitcher once upon a time.
It's got to be over. But Joe surely wouldn't bet money on it. There will be no verdict until he's vetted by the computer, even though he effectively tanked a playoff game tonight in Kansas City.
Oh, and the rest of the Rays didn't show up, either.
It's all part of what has made 2010 so wacky. There's no real logic to the Rays having piled on so many runs this season when they can't hit .250, yet they've got 94 wins.
Ownership repeatedly says 2010 is the last big-money hurrah for a while, but Jeremy Hellickson sits on his hands to make sure he's healthy in 2012. That's like Joe passing on a Buccaneers cheerleader tonight so his back is in top shape to put up the Christmas tree.
How fitting it will be to have Andy Sonnanstine pitching for home field advantage tomorrow. Andy Sonnanstine!
There might not be enough beer in Sweetbay to get Joe through tomorrow night.
But Joe still has faith in the final outcome. Somehow, some intelligent design got Rays Nation to this point, and that's about all that's out there now to hang a hat on.
Likes

(

0

)
Dislikes

(

0

)