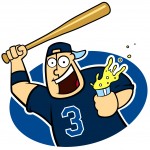 Rays baseball won the do-or-die Game 5 at the Trop.
The problem is it was the Rangers playing Rays baseball, snatching extra bases and seizing opportunities that didn't even look possible. And then piling on late runs to bury their opponent.
Somewhere, Dioner Navarro is laughing.
Joe's sick to his stomach over this finish. Really, Joe's been in agony.
There's plenty of people to point fingers at, but really the most deserving finger should go towards Cliff Lee. The high road is deserved after what he turned out. The guy made David Price look like a No. 2 starter.
It was nice knowing you Mr. Crawford.
Likes

(

0

)
Dislikes

(

0

)