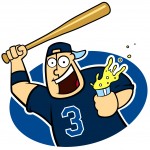 So James "No Game" Shields gives up five runs to start the damned game.
Guess what the Rays lost by tonight folks? Yup, you guessed it.
What exactly has happened to a once proud starting pitching staff? Joe has called out Derek Shelton for his unclutch, walks-are-better-than-hits, strikeouts-aren't-so-bad approach to the Rays bipolar hitting. Maybe it's time to put Jim Hickey under the microscope?
Is that unfair to Hickey? Probably, but if Shelton is going to be bruised for his lousy job, who gets a finger pointed at them for the Rays starting pitching suddenly tanking at the same time once college football season began?
Joe can understand an injury, but it seems like three of the Rays starters have suddenly, at the same time, turned into head cases. One pitcher losing his stuff is an accident, two is a trend, three pitchers and there's something wrong.
Who exactly do you pick as a starter in the postseason between Shields, Niemann and Garza? Yeah, Garza just given his track record but this is frightening to Joe.
Joe would like to know if Hickey has changed his approach in recent weeks as it appeared the Rays were a lock for the playoffs, and as a result screwed with his pitchers' heads?
Something is not right.
Likes

(

0

)
Dislikes

(

0

)