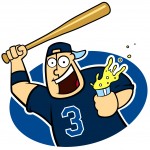 Why does it not shock Joe that this Dan Wheeler would blow a game? And why does it not shock Joe that Merlot Joe is culpable?
Wheeler — who has become such an embarrassment Dwayne Staats is secretly hoping his daughter gets a divorce — shouldn't have been out there in that situation in the first place, a tie game in the 10th inning. That's begging for disaster.
Guess what happened? Whoops! Pathetic!
Joe was monitoring Twitter at that moment and read some allegedly sober people claim Merlot Joe almost had to use Wheeler because the Rays were running out of arms.
Who exactly is responsible for that? Merlot Joe of course! Seven relief pitchers he ran out there — seven!
This Creeping LaRussaism is simply out of hand. Please, someone, anyone, cite a Florida state statute or an 11th commandment where MFISUO or MFIKY cannot pitch more than one inning? Go ahead.
What a marvelous comeback by the Rays. And watch a tank job by a manager who tried to wear a path to the mound on the fake grass with his mix-and-match nonsense. This is exactly the corner you paint yourself in playing these types of mind games if a manager is allergic to a relief pitcher throwing more than one inning (when Chad Qualls threw over an inning, word is that Merlot Joe broke out in hives).
Good thing Merlot Joe never managed Bob Gibson. He would have been punched.
Likes

(

0

)
Dislikes

(

0

)