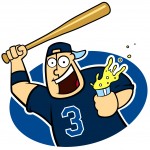 It's great to shove a playoff-like victory up the Yankees rear, but never in Joe's recent memory can he remember wanting the win so badly just to stick it to an umpire.
What, is egomaniacal Tom Hallion somehow mad at Carl Crawford because Hallion blew that World Series call against him two years ago? For the pretty soft spoken, veteran Crawford to get ejected in the ninth tonight for a few comments after a called third strike was ridiculous.
Shouldn't happen in a gem of a game like this. And Hallion was inconsistent, in Joe's eyes, and quick with the attitude to Carlos Pena.
What sweet justice it was for Reid Brignac, in just his 10th at bat of the month, to take Crawford's spot in the order and jack the game-winner in the 11th for the 1-0 victory and sole possession of first place.
The Rays gave everything any fan could ask tonight. They took the fight the full 15 rounds.
It's just one game, but Joe can hope David Price is in the Yanks heads a bit.
Joe also wonders whether the mad scientest in the dugout will give Brignac some more action.
Likes

(

0

)
Dislikes

(

0

)