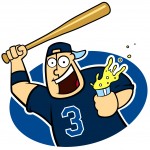 It seems the best way to wash away the angst of a previous evening is with champagne spray. That's what the Rays did tonight.
In the roller coaster, viral age of the Internet, the Rays went from — in some eyes — an apathetic figure to a loathed figure to a sympathetic figure to near heroes, all in less than a span of 24 hours.
Ah, technology. Ah, remorse. Ah, playoffs.
David Price, hours after slapping Rays fans in the face for not showing up to the Fruitdome on a Monday night, cut a check for (presumably) 10,000 of the 20,000 free tickets the Rays are coughing up Wednesday night with Dirtbag picking up the rest of the tab, again, presumably.
Price, who clearly was taken aback by Rays fans angry that a millionaire would mock commoners for not spending money, should spout off more often if this is the result. Not for free tickets, but for a masterpiece of a pitching gem. He tossed a six-hit, eight-strikeout, no-walk, eight-inning outing to put the Rays in the playoffs. At worst they will be a wild card team.
For the second time in three years, St. Petersburg will be host to a baseball postseason. Wildly slap your glove and pull out your shirt.
Joe's content but there is more work to do boys. This should be just the first of five celebrations. Don't overdo it.
Likes

(

0

)
Dislikes

(

0

)