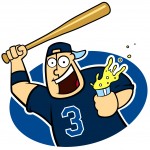 It's official. Dan Wheeler and Chad Qualls suck.
It's because of those two stiffs the Rays lost today and failed to pick up a game on the Yankmees, who lost to Toronto.
Ever the slave to pitch counts, it backfired on Merlot Joe today.
Look, it wasn't as if Wade Davis pitched horribly in the fifth. He got a double play and a strikeout to retire the O's, only to see Wheeler and his ADD-fidgeting of his glove to throw a match onto a bucket of gas. Hell, Joe can walk batters just as easily as Wheeler.
Then the immortal Qualls comes in and a hard-gained lead by the Rays was gone.
Why not let Davis come out in the sixth to see if he can fight through the inning? He could just as easily walked two batters as Wheeler. But, nnnoooo Davis couldn't pitch any longer. He had 103 pitches (GASP)!
Boy, a pitcher constantly playing with his glove ree-LEE distracts the batters, doesn't it? Oh, Dan, you're so deceptive!
Shame on Wheeler and Qualls for throwing away a win. Poor mullet-growing Dirtbag and poor Rocco, seeing their efforts pissed away.
"Paging Grant Balfour… "
Likes

(

0

)
Dislikes

(

0

)