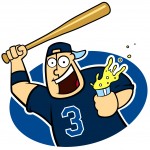 Joe will sleep quite soundly tonight.
Why? Well, nothing brings Joe more joy to see the Rays positively seal club the Red Sux.
How cool was it to see Carl Crawford belt three doubles in four innings?
Zorilla homers. Mullet-growing Dirtbag homers. Red Sux killer Dan Johnson homers. Bossman homers. Bartlett homers.
Loved it!
Also impressive that David Price was solid — albeit racking up a large pitch count early — in his first outing at Fenway Park, not a park normally friendly to southpaws.
Best part of the win was to see those miserable locals (more) irritated. Friggin' Red Sux fans. They speak as if someone is constantly choking them and after tonight they have good reason to sound like they're being gagged. Your season is over slugs. Oh-VAH!! (Rhymes with "No-MAH!")
Have fun with your Bill Belicheat hoodies!
Likes

(

0

)
Dislikes

(

0

)