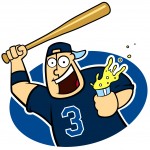 Joe wonders what Joe Maddon had to say to bitter Matt Garza after giving him the hook in the sixth inning after 98 pitches, one run and pretty darn good command.
Is this what the postseason will look like? Or will Maddon give his playoff starters more rope?
Forgive Joe for being assumptive with the playoffs, but there's no way the Sox are making up seven games with 28 to go.
"It's not you, Matt. But the computer said to take you out, son. You can't mess with what's working. … I love you."
All in all, a pretty typical Rays win in Baltimore. Bullpen was lights out, a couple of bats stepped up, and murderers row (Pena, Joyce and Johnson) didn't kill the good guys.
Joe's resigned himself to the fact that Rays fans are just never going to know the soul of this team until October. Although Joe is one of the guys that hits a 9 in the confidence poll.
On a side note, Joe had the unfortunate experience of listening to the end of the Yankees game on local radio in Tampa today. The unmitigated arrogance flowing through the airwaves was astounding, especially considering Joe expected a lot of that was coming.
You can just tell that the grating Suzyn Waldman and company just think the Rays are nothing more than a nice story simply to keep the final weeks interesting.
Joe's never been more motivated to win the East.
Likes

(

0

)
Dislikes

(

0

)