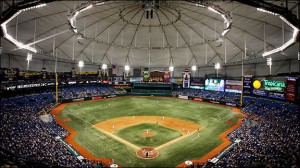 [Update] Joe Maddon was asked about the possibility of changing the ground rules before the playoffs (via The Heater)…
"I honestly believe that if we were to get to the playoffs you might see some real strong consideration or more thought given to changing something now," Maddon said. "I think that's possible. I do. Truly, just think about a game being won or lost – just say it were the seventh game – and say that game was impacted by that, both sides would be yelling bloody murder."
[9:30pm] The Trop is quirky. The most famous (notorious?) of these quirks are the catwalks. And a few times a year a batted ball strikes one of the catwalks. We laugh when it benefits the Rays and we usually shrug our shoulders when they don't. But rarely do the catwalks have such a pronounced effect on the outcome of a game as yesterday in which a pop-up with 2 outs in the 9th inning of a tie game hit a catwalk, fell fair and scored the go-ahead run for the Twins. And never before have the catwalks impacted a pennant race.
Yes, this is a knee-jerk reaction, but maybe it is time to revisit the ground rules with respect to batted balls striking the catwalks.
Before we continue, let's review the catwalk ground rules:
There are four rings, dubbed A-D moving out from the center with the A-ring closest to the center of the roof and the D-ring closest to the outer walls.
Any ball that strikes a catwalk in foul territory is a foul ball.
If a batted ball strikes the C- or D-ring in fair territory, it is ruled a home run.
If a batted ball strikes the A- or B-ring and lands in fair territory, it is a live ball.
The ground rules on the C- and D-ring seem fair as they are beyond the field of play.
But what about the A- and B-rings? Is it fair that a batted ball can strike and be deflected by a catwalk and still be a live ball? Especially considering that in most cases, these are routine flyballs.
We feel there are two options that make more sense for the A- and B-rings…
Treat every batted ball that strikes the A- or B-rings like fan interference. In other words, if the umpire deems that the ball would have been caught, then the batter will be ruled out. Or…
Rule all batted balls that strike the A- or B-ring an automatic do-over. We can call this the "Cowboys Stadium Rule," where any punt that strikes the scoreboard are replayed.
Either of these options are better than the current "Pinball Rule." And yes, this is just the second time a ball has struck the A-ring. But certainly it is better to revisit the rules now, than after a game-changing play during the playoffs.
Losing yesterday's game was embarrassing enough.
Likes

(

0

)
Dislikes

(

0

)