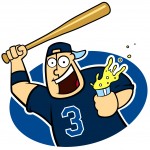 Man, this is starting to be scary stuff.
Scary good.
Joe is trying to temper his excitement but it's hard to when you consider the Rays throttled the American League West-leading Rangers.
Consider the Rays banged out 15 hits. No, that's not a typo. The Rays had 15 hits and crossed the plate 10 times (even though Bossman tried his best Lou Brock/1968 World Series impression and damned near was tagged out at the plate).
What is with this sudden burst of offense? Bossman has found his bat. If Bossman can come close to hitting the rest of the season as he has in recent games, the team that resides at the Fruitdome is a very, very scary team.
Matt Garza was simply superb. Racking up 10 strikeouts in seven innings is damn fine pitching. Bravo.
Well, the Rays have won the series against a team they very well could face in the playoffs. Get the brooms ready for tomorrow afternoon, though with James "No Game" Shields pitching, Joe isn't very comfortable.
The most interesting thing Wednesday is if Shields gets tagged (again), is he on his way to Durham or Port Charlotte to try to work out some kinks? Currently with Hellboy on the parent club, Shields is the Rays No. 5 starter.
Oh, and Joe forgot to add: Your first-place Rays.
Likes

(

0

)
Dislikes

(

0

)