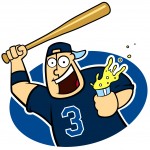 Why, Joe is so giddy over the Rays beating the Chowdahheads tonight, Joe's pulling his Rays jersey out of his boxers as he types.
So much to like about this game. Where does Joe start? Was it the turn-back-the-clock pitching of James "Big Game" Shields? Was it Carlos Pena's homer? Was it Carl Crawford's homer? Was it Pena racking up Victor Martinez at home plate? Was it B.J. Upton chasing down a potential extra-base hit in the left field gap late?
Oh, and Joe almost forgot about Red Sux killer Dan Johnson!
So much to choose from.
At any rate, the Rays have a 6 1/2 game lead on the Chowdahheads after winning two of three, with just over a month left in the season.
Joe hopes all those Chowdahheads who were at the Fruitdome tonight go home crying with their typical being-choked-24/7 voices as they cry for their mommy Bill Simmons and his 6,500-word ramblings of gibberish and high school cheerleader angst.
Joe hopes those SOBs buy some stale Samuel Adams Cranberry Lambic! God, what putrid human beings.
Get the hell out of Florida and put on your Bill Belicheat hoodies. It's getting cold up in New England… skunks! A long cold winter awaits while you watch the Rays in the playoffs!
Low lifes!
Likes

(

0

)
Dislikes

(

0

)